Commercial Jobs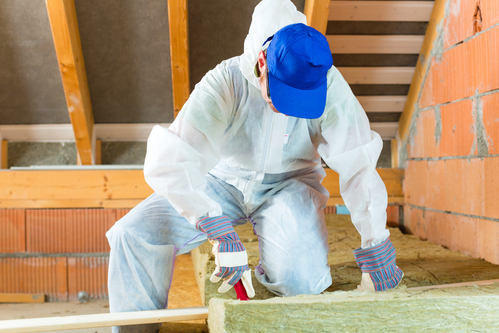 Give Us A Call So We Can Start Saving You and Your Business Money!
One of the best ways for growing businesses to save money is knowing that their companies are running efficiently, but have you ever thought of your commercial space and saving energy and money there? What goes unnoticed by most, is that you could be saving hundreds of dollars if not more a year just by looking into the energy spent on heating and cooling your space.
We love specializing in helping our customers see that it is possible to watch their energy bill decrease. Especially when it comes to commercial buildings. There are a few important things we as an insulation company here in Maryland do.
1. Safety First
When dealing with old insulation you need to handle it cautiously. We are confident that our employees come well prepared for the job. Not only will their attire prove this, but how our employees handle old insulation that needs to be disposed properly due to bacteria and mold. Insulating a building or a home can be a messy job but our employees are trained for any task.
2. Attentive to Details
We carefully take the time to read over blueprints and specifications to determine the requirements of the job. Every building is different and by reviewing the specs in detail we can ensure you that we are prepared for anything and everything when arriving.
3. Preparation is Key
Determine the type and amount of insulation we will need. We would love to go over the different types of insulation with you and talk about the most cost effective way for your company to start saving. We will go over the pros and the cons of each of the following options:
Fiberglass : is a type of fiber primarily composed of glass that is used in a wide variety of applications, and is predominantly employed as a residential and commercial thermal insulator. Very popular to use because it poses no fire hazard.
Cellulose Blown : has the highest recycled content of any insulation available. For example, fiberglass has a maximum amount of 50% recycled content. Easy to use with closed walls.
Spray Foam: will expand on contact to create foam that insulates, air seals and provides a moisture barrier. Easily used for renovations and new construction projects.
4. Precision & Accuracy
We will measure and cut the insulation to fit perfectly into the walls and around all pipes ensuring the best seal possible. By having it tightly sealed we will help save you from future moisture issues that cause mold and bacteria to start developing. Another way we do this is by installing the proper barriers to protect the insulation.
Handling these kind of tasks by yourself can be overwhelming. Let us help! Call us for a free estimate and to know more about which insulation is right for your job!